General
Restaurante Spiral
Mediterranean cuisine in a minimalist setting: The Spiral restaurant is located within the modern and avant-garde Hotel Porta Fira, opposite the Fira Gran Via, near Plaza Europa in L'Hospitalet de Llobregat.
This is a minimalist place playing with black and white, red and, with curved features and aims to merge the physical world with the virtual, thus creating a unique atmosphere.
Work of renowned Japanese architect Toyo Ito (2013 Pritzker Prize), the Hotel Porta Fira was recognized in 2010 as the best skyscraper in the world and was awarded the prestigious architectural award Emporis Skyscraper Award.
The Spiral restaurant offers an excellent menu, made from seasonal products.
Its location opposite Fira Gran Via makes it perfect for lunches and events for anyone attending any of the major events that take place here such as the Mobile World Congress.
Address: Porta Fira Hotel, Plaça Europa 45, L'Hospitalet 08908
Hours: 13:00 to 16:00 and 20:00 to 23:15
Food: Mediterranean/International
Avg. Price: 35€
Environment: Minimalist
Cards: Visa, American Express, Mastercard, Servired
L'Hospitalet de Llobregat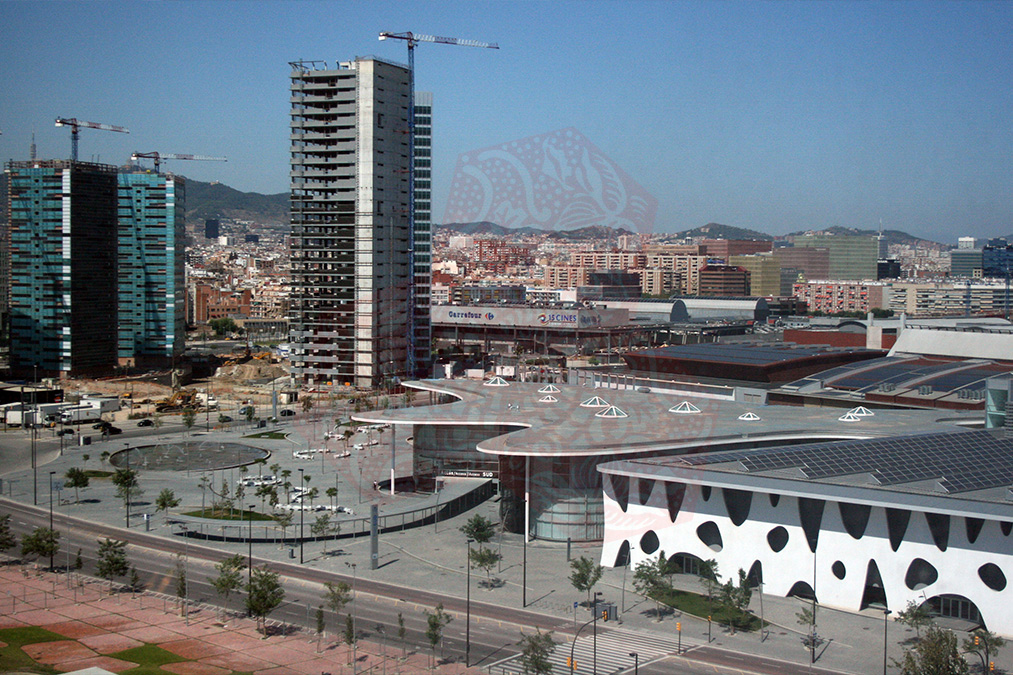 L'Hospitalet de Llobregat (in Catalan), or Hospitalet de Llobregat (in Spanish),[a] often shortened to L'Hospitalet, is a municipality to the immediate southwest of Barcelona in Catalonia, Spain.
By population, it is the second largest in Catalonia and the sixteenth in Spain. By population density, is notable for being one of the most densely populated cities in the European Union.
The first records of the settlement date to the Neolithic era with artefacts showing human habitation in the Llobregat river area. Roman artefacts have been found dating to the 2nd century BC such as a funeral decoration representing the head of Medusa now in the archaeological museum of Barcelona. However it is not until the 10th century that written references to Provençana (the city's original name) appear. The current name originates from the Catalan language and derives from a hostel next to the Church Saint Eulalia of Provençana (Santa Eulàlia de Provençana) used by pilgrims in the Middle Ages. The city retained the character of a village until the 19th century when the first textile factories were built causing a population boom. The 1960s and 1970s saw a second population boom, caused by immigration from poorer regions of Spain: however this was not matched by construction of the necessary amenities and it was only in the 1990s that public investment resulted in additional schools, leisure facilities and housing.
The Swedish painter and former anarchist, later convert to Islam, 'Abd al-Hādī 'Aqīlī, formerly known as Ivan Aguéli, died there, being killed by a train, in 1917.
The main reason people would choose to stay in this area is to attend a tradeshow or exhibition at Fira Gran Via, which was located in L'Hospitalet as part of the regeneration of the area.
Read more