General
Restaurante Nuclo
The spectacular Nuclo, designed by Japanese architect Toyo Ito, is situated by the Fira Gran Via. In an environment of luxury that features an impressive wine cellar at the core, the young chef Jordi Narro who worked with the legendary Ferran Adrià, offers a wonderful creative cuisine which certainly lives up to all expectations.
Designed with the business lunch in mind care has been taken to ensure that there is plenty of space between tables to guarantee our guests privacy, and for events there are two private rooms with a maximum capacity of 16 people and another room with a capacity of 80 people.
Its positioning directly by the South Entrance to Fira Gran Via makes it perfect for lunches and events for anyone attending any of the major events that take place here such as the Mobile World Congress.
Dishes: crab ravioli with suco crustaceans, air dried tomatoes and basil. Gras with caramelized peach and red summer vineyard. Scallops with sea urchin, black sausage and apple. Longline hake pil pil cockle, ham and asparagus. Beef tenderloin grilled herbs with fondant potatoes gras.
Address: Avinguda Joan Carles I, 58 (L'Hospitalet) Located in Fira Gran Via
Hours: Monday to Friday 13-16 h. also during the weekends if there is a major show at the Fira. At night they will open for groups starting from 24 people. Closed: Nights. Saturday. Sunday.
Food: Signature dishes
Avg. Price: 60€
Environment: Business Exclusive, Luxury, Modern and fashion
Features: Terrace, Disabled access, Video, Roundtable
Groups: For groups, Family Reunions, Business dinners, Presentations, Weddings and Christenings, Private Rooms, medium rooms 20-40 (private room: 24 pax), large> 40 Salas (main room: 150 pax, private room: 80 pax).
Cards: Visa, American Express, Mastercard, Servired, Diners Club
L'Hospitalet de Llobregat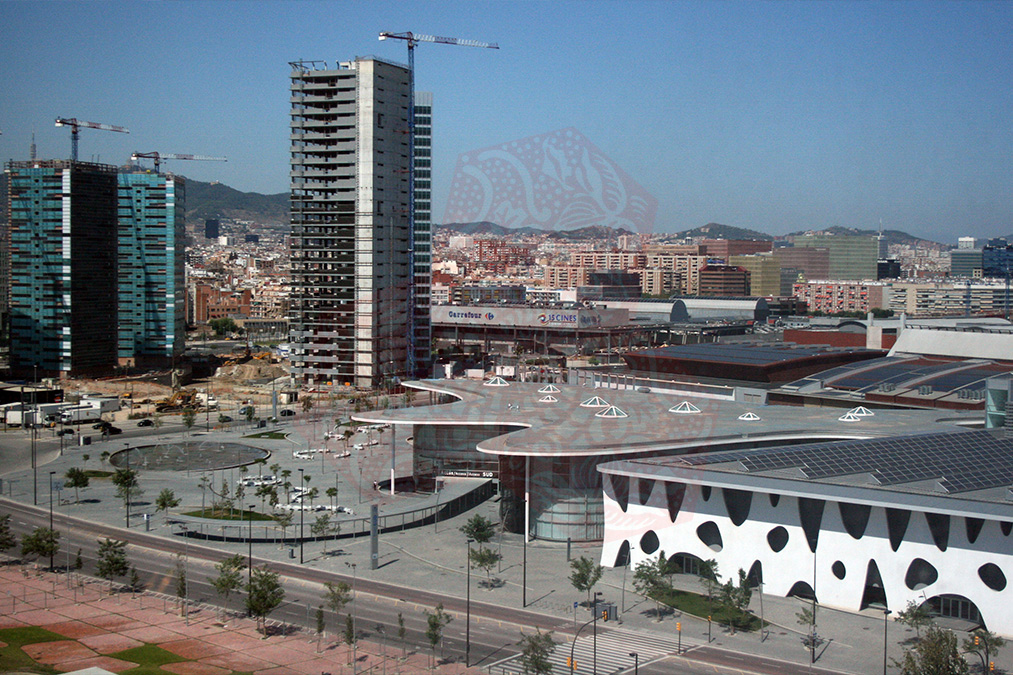 L'Hospitalet de Llobregat (in Catalan), or Hospitalet de Llobregat (in Spanish),[a] often shortened to L'Hospitalet, is a municipality to the immediate southwest of Barcelona in Catalonia, Spain.
By population, it is the second largest in Catalonia and the sixteenth in Spain. By population density, is notable for being one of the most densely populated cities in the European Union.
The first records of the settlement date to the Neolithic era with artefacts showing human habitation in the Llobregat river area. Roman artefacts have been found dating to the 2nd century BC such as a funeral decoration representing the head of Medusa now in the archaeological museum of Barcelona. However it is not until the 10th century that written references to Provençana (the city's original name) appear. The current name originates from the Catalan language and derives from a hostel next to the Church Saint Eulalia of Provençana (Santa Eulàlia de Provençana) used by pilgrims in the Middle Ages. The city retained the character of a village until the 19th century when the first textile factories were built causing a population boom. The 1960s and 1970s saw a second population boom, caused by immigration from poorer regions of Spain: however this was not matched by construction of the necessary amenities and it was only in the 1990s that public investment resulted in additional schools, leisure facilities and housing.
The Swedish painter and former anarchist, later convert to Islam, 'Abd al-Hādī 'Aqīlī, formerly known as Ivan Aguéli, died there, being killed by a train, in 1917.
The main reason people would choose to stay in this area is to attend a tradeshow or exhibition at Fira Gran Via, which was located in L'Hospitalet as part of the regeneration of the area.
Read more