General
Restaurant Etapes
Set in the modernist street of Enrique Granados in central Barcelona, is the gastronomic restaurant Etapes. Its facilities combine elegance using wood, glass and iron, which creates a particularly warm atmosphere.
Its cuisine is notable for the use of fresh market produce that results in the most representative recipes of traditional Mediterranean cuisine such as cannelloni roast, foie gras, truffles and cream cheese, foie mi-cuit salt, or shank lacquered lamb (18 hours of cooking at low temperature), including its rice dishes and fresh fish. The homemade desserts and selection of wines deserve special mention.
A private lounge and a relaxing terrace, this restaurant is presented as the ideal space for special celebrations. For the quality of its cuisine and service and the pleasant atmosphere we breathe, Etapes is the perfect choice.
Address: C/ Enrique Granados 10,  08007 Barcelona
Hours: 13:00 to 15:30 (except Saturday and Sunday), 20:00 to 23:00 (every day)
Food: À la carte
Avg. Price: 32€
Specialty / Recommendations: cannelloni roast, foie gras, truffles and cream cheese, foie mi-cuit salt, or shank lacquered lamb (18 hours of cooking at low temperature)
Environment: Preferred, Casual, Current, are fashionable.
Features: Air conditioned , Can be privatized , English spoken , Terrace , WiFi
Cards: Visa, MasterCard
Eixample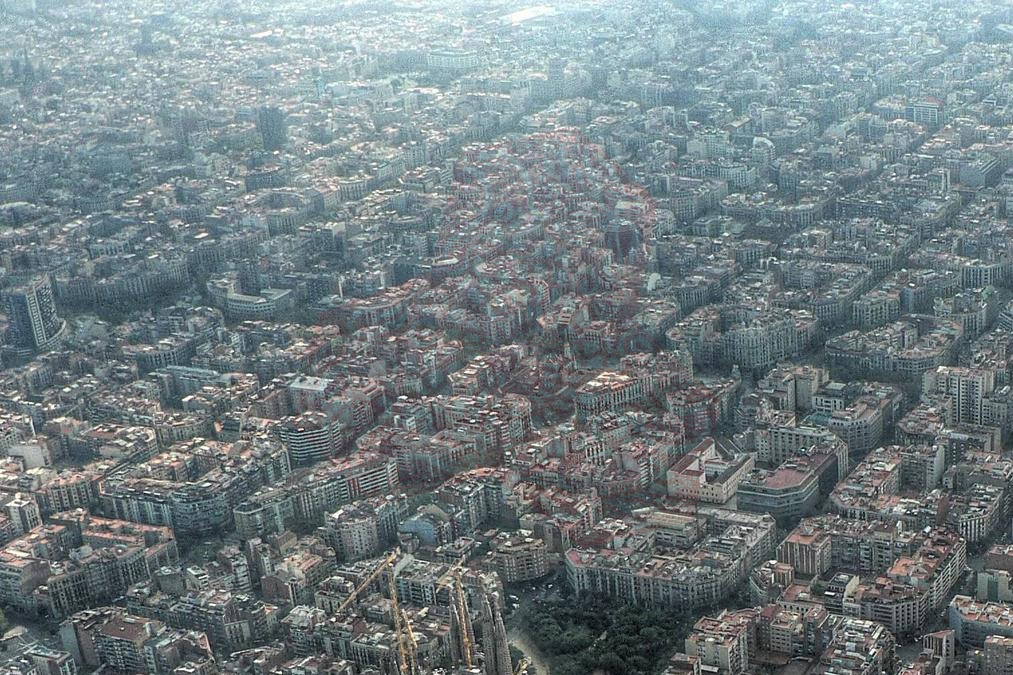 The Eixample, which in recognition of its status as the newer part of the Barcelona translates as "extension", is a large area to the north of Plaça Catalunya spreading out from left to right of Passeig de Gràcia.
This area is indeed an extension to Barcelona, benefiting immensely from the ingenious urban planning of Catalan engineer Cerdes in the 1850s. Having a love for straight lines, Cerdes designed the whole area to be set out in a grid with each block having an inner courtyard. This results in an almost perfect urban layour making it is hard to get lost in and easy to find places.
More recently the Eixample is now famous for being the area to the majority of Barcelona's art nouveau masterpieces, as well as a high-class residential and shopping area.
Passeig de Gràcia is the heart of Eixample and the line that cuts the area into two from "Eixample left" and "Eixample right". The right beign the older side with the more impressive architecture. Here you will find most of Barcelona's international designer shops such as Chanel and Louis Vuitton. Also along this road are two of Gaudí's characteristically dreamlike buildings: La Pedrera and Casa Batlló.
There are plenty of fascinating art galleries in this area of the city and if art is your thing be sure to check out the Fundacion Antoni Tapies, just off Passeig de Gràcia which has a permanent collection of the Catalan artist's work.
Whilst being a safe, residential part of Barcelona the Eixample also offers a vibrant nightlife and thriving café culture. Eixample is one of the most beautiful areas of Barcelona to wander, absorbing the fabulous architecture and then stop to observe the people from one of the many terrace cafes.
It is in the Eixample that you will find some of the best and also most expensive restaurants in Barcelona. This along with some internationally acclaimed bars such as Dry Martini making the area an extremely luxurious place to spend an evening.
Transportation links in and out of the area are excellent, being serviced by several metro stops, as well as the FGC train. However the area is very central and most other parts of Barcelona are all within walking distance.
Read more