General
Restaurante Casa Culleretes
Founded in 1786, Barcelona's oldest restaurant is still going strong, with tourists and locals flocking here to enjoy its rambling interior, old-fashioned tile-filled decor and enormous helpings of traditional Catalan food, including fresh seafood and sticky stews.
Address: Carrer d'en Quintana, 5, 08002 Barcelona, Spain
Hours: 1.30-4pm & 9-11pm Tue-Sat, 1.30-4pm Sun
Food: Seasonal / Traditional
Environment: Informal
Cards: Visa, American Express, Mastercard, Servired
El Born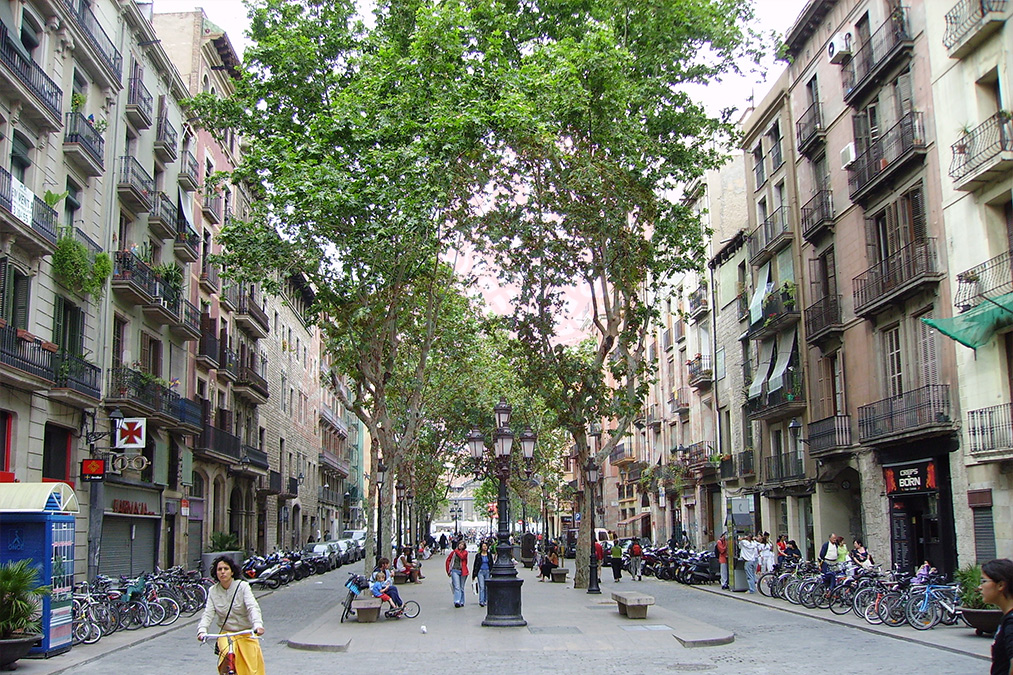 The El Born area of Barcelona is now considered of the most fashionable places in the city, maintaining the characteristic narrow streets and quaint cafe-covered squares of Barcelone but just being far enough removed from the beaten track to maintain a bit of calm, charm and dignity.
During the day the cafes are packed with tourists and locals alike whilst at night the younger of those move to Passeig de Born (known in Spanish as the Paseo del Born), once the site of medieval jousting competitions,  to sample the many bars.
Nevertheless El Born isn't just about the nightlife, and at one end of the Passeig Del Born looms El Born's most famous building, the wonderful Santa Maria del Mar church, instantly recognisable by its large rose-shaped stained glass window and octagonal towers. Built between 1329 and 1383 at the height of Catalonia's maritime and mercantile prominence. It is an outstanding example of Catalan Gothic architecture, with a purity and unity of style that is very unusual in large medieval buildings.
El Born is also home to the Museu Picasso ("Picasso Museum"), housed in five adjoining medieval palaces, and with 4.251 works by the painter it is one of the most extensive collections of artworks by the 20th-century Spanish artist.
Other than the joys of medieval architecture, and the aforementioned highlights, El Born is characterised by its hidden treasures. This fashionable district is the place where you will happen upon innovative boutique shops selling recycled bags, champagne bars serving up first class Cava (Spanish sparkling wine most of which is produced in Catalonia), or discover the joys of Lomo photography. Other treasures include the Chocolate Museum and the ever-popular Cal Pep restaurant.
Sandwiched between Via Laietana and Barceloneta El Born is served by the metro stops Barceloneta and Jaume 1 which are on the same line: L4, Yellow Line. Las Ramblas, Plaça Catalunya and the very heart of Barcelona are just a pleasant ten minute walk away.
Read more