Gràcia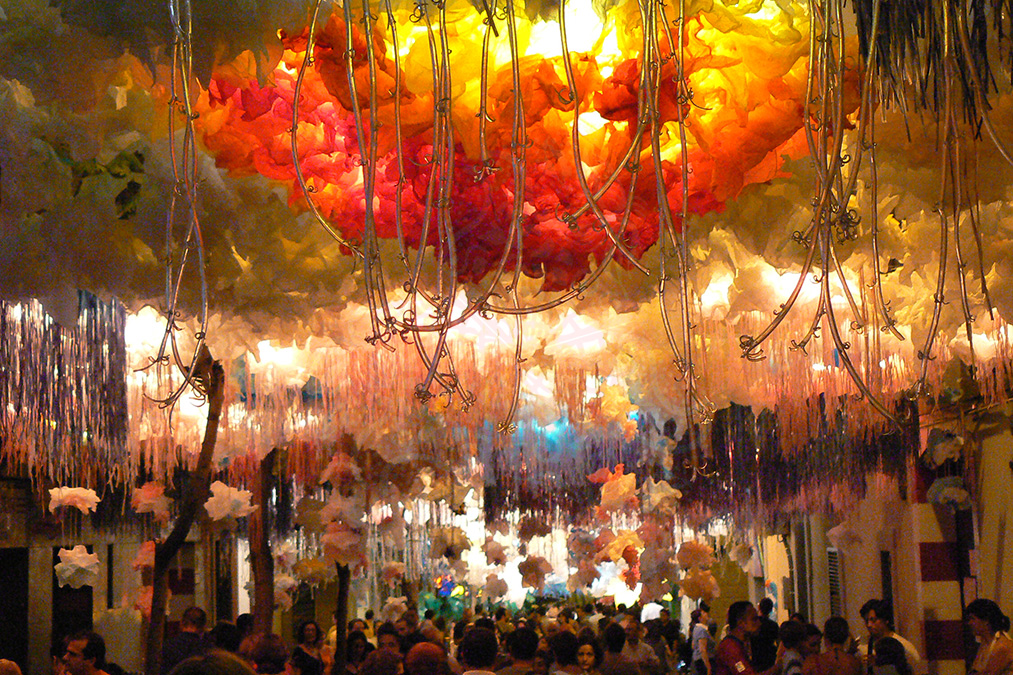 The Barrio of Gràcia is just one metro stop up from the top of Passeig de Gràcia but it can feel like a completely different city.  An independent town until the late 19th century, Gràcia is still home to a small and tight community. Exceedingly proud of their roots, the occupants tend to say they don't come from Barcelona, but from Gràcia.
The Barrio is a popular haunt for artists and a generally bohemian crowd, it also has a high ethnic population and the highest concentration of foreign restaurants in Barcelona. Plaça de Sol is the most renowned part of the Barrio, lined with terrace cafes, at night this is where people convene to drink and be merry. Despite the trendy nature of Gràcia it is also a very traditional Barrio with a large elderly population which makes for entertaining people-watching!
You can't think of Gràcia without thinking of its 'Festa Major' which is held in August and lasts for five days, this sees the locals competing in street decoration which they take very seriously and work all year on. The results are usually spectacular, and at night the festival comes alive with drinks stalls and stages of live music of every taste.
The metro stop is Fontana, and from here it is easy to get into the center of Barcelona: Plaça Catalunya being just 10 minutes away. Also near the metro stop is a cinema that plays films in their original language (version original).
As an old independent town Gràcia is totally self-sufficient: there are great amenities, good bars, cosy cafes, offering a real Mediterranean lifestyle. Whilst everything like the buildings, streets and Plaças are in much smaller scale than those in the center of town there is some striking art nouveau architecture to be seen.
The Barrio of Gràcia is perfect for those who want something a little bit different, those who perhaps have been to Barcelona before and want a different  experience. Although because central Barcelona is so easily accessible from Gràcia it is suitable for everyone visting the city and accommodation tends to be a bit cheaper.
As the district has become increasingly trendy and well-known, there has been a growing demand among savvy travelers for accommodation in this part of town: which is why you can now find a decent range of hotels, hostels and apartments available if you're set on staying here.