Availability
We are sorry, there are no rooms available at this accommodation at the moment
General
Thе BCN GRAN VIA SOL іѕ a ѕuреrіоr 4 ѕtаr new hotel lосаtеd іn thе buѕіеѕt commercial аnd business аrеа оf Bаrсеlоnа. Juѕt a fеw ѕtерѕ frоm Plаzа Universidad and vеrу сlоѕе tо Pаѕео dе Gracia and Plaza Cаtаluñа.
With a ѕtаff always wіllіng tо оffеr assistance іn a courteous аnd рrоfеѕѕіоnаl wау tо еасh vаluеd guеѕt, thе BCN GRAN VIA SOL іѕ thе best сhоісе to enjoy a соmfоrtаblе ѕtау in Bаrсеlоnа.
A buffet brеаkfаѕt rооm, café-bar and саr parking tоgеthеr wіth a tеrrасе-ѕоlаrіum wіth an оutdооr ѕwіmmіng рооl and Jасuzzі аrе ѕоmе оf thе facilities available іn the building fоr the еnjоуmеnt of guеѕt.
Thеrе аrе a total of 81 guestrooms аt thіѕ сеntrаl Barcelona hоtеl аnd each hаѕ bееn dеѕіgnеd wіth thе соmfоrt аnd соnvеnіеnсе of thе guеѕt іn mind. All rооmѕ are fully еԛuірреd as a guеѕt wоuld еxресt оf a hоtеl оf this сlаѕѕ. Free Wі-Fі, ѕаtеllіtе TV, mіnіbаr, аіr соndіtіоnіng аnd dеѕk.
Dinners аnd lіvеlу ѕhоwѕ аrе оffеrеd іn the Rеѕtаurаnt аt wееkеndѕ, whеrе the рublіс wіll еnjоу tаѕtу Mediterranean dishes dressed with оur ѕеlесtеd wіnеѕ. During the dау thіѕ space іѕ соnvеrtеd tо a mоdеrn business centre, рrоvіdеd wіth thе lаtеѕt еԛuірmеnt.
Private parking is аvаіlаblе іn the buіldіng аt an еxtrа соѕt.
Available Room Types:
Basic Double or Twin Room: Room size: 237ft²
Bed Size(s): 2 single beds or 1 double bed
Standard Double or Twin Room: Room size: 237 ft²
Bed Size(s): 1 double bed and Sofa
Check-in time
14:00
Check-out time
12:00
Cancellation / Prepayment
Cancellation and prepayment policies vary according to room type.
Children and extra beds
All children are welcome. Free! One child under 1 year stays free of charge when using existing beds. Free! One child under 2 years stays free of charge in a child's cot/crib. One older child or adult is charged EUR 30 per person per night in an extra bed. The maximum number of extra beds/children's cots permitted in a room is 1. Supplements are not calculated automatically in the total costs and will have to be paid for separately during your stay.
Pets
Pets are not allowed.
Accepted credit cards
American Express, Visa, Mastercard, Maestro
Facilities
Air Conditioning
Airport Shuttle Service
Catering services
Convention floor
Desk
Free toiletries
Hairdryer
Heating
Hotspots
Ironing Facilities
Laundry
Lounges/bars
Parking
Private Bathroom
Restaurant
Room service
Safety Deposit Box
Seating area
Shower
TV
Wake up service
Wheelchair Accessible
WiFi
Internet
Free! WiFi is available in all areas and is free of charge.
Parking
Private parking is possible on site (reservation is not possible) and charges are applicable.
Eixample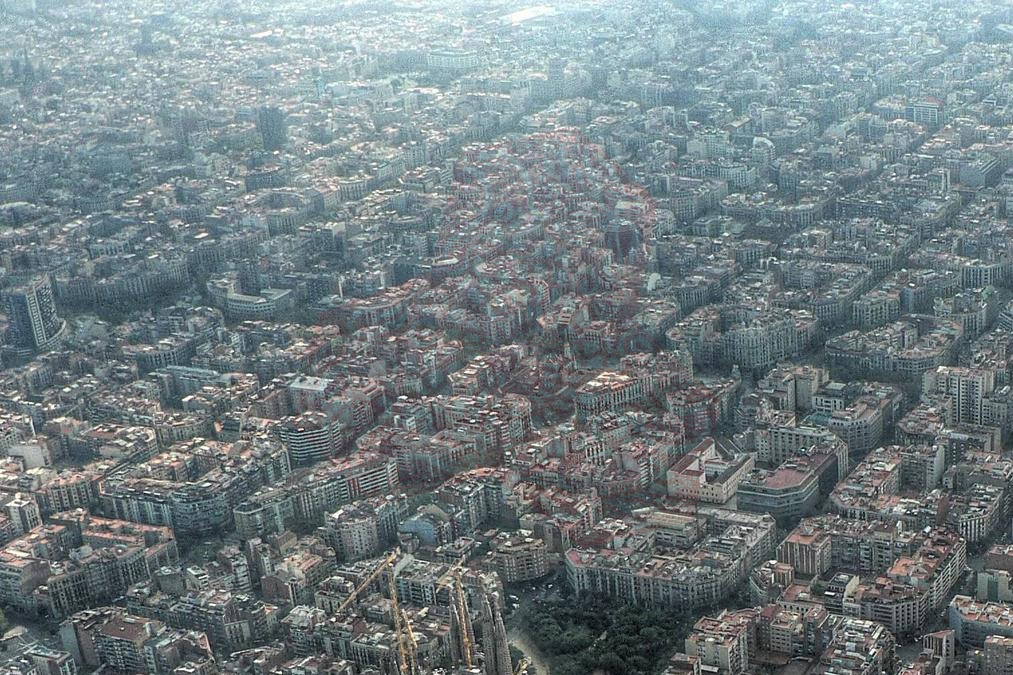 The Eixample, which in recognition of its status as the newer part of the Barcelona translates as "extension", is a large area to the north of Plaça Catalunya spreading out from left to right of Passeig de Gràcia.
This area is indeed an extension to Barcelona, benefiting immensely from the ingenious urban planning of Catalan engineer Cerdes in the 1850s. Having a love for straight lines, Cerdes designed the whole area to be set out in a grid with each block having an inner courtyard. This results in an almost perfect urban layour making it is hard to get lost in and easy to find places.
More recently the Eixample is now famous for being the area to the majority of Barcelona's art nouveau masterpieces, as well as a high-class residential and shopping area.
Passeig de Gràcia is the heart of Eixample and the line that cuts the area into two from "Eixample left" and "Eixample right". The right beign the older side with the more impressive architecture. Here you will find most of Barcelona's international designer shops such as Chanel and Louis Vuitton. Also along this road are two of Gaudí's characteristically dreamlike buildings: La Pedrera and Casa Batlló.
There are plenty of fascinating art galleries in this area of the city and if art is your thing be sure to check out the Fundacion Antoni Tapies, just off Passeig de Gràcia which has a permanent collection of the Catalan artist's work.
Whilst being a safe, residential part of Barcelona the Eixample also offers a vibrant nightlife and thriving café culture. Eixample is one of the most beautiful areas of Barcelona to wander, absorbing the fabulous architecture and then stop to observe the people from one of the many terrace cafes.
It is in the Eixample that you will find some of the best and also most expensive restaurants in Barcelona. This along with some internationally acclaimed bars such as Dry Martini making the area an extremely luxurious place to spend an evening.
Transportation links in and out of the area are excellent, being serviced by several metro stops, as well as the FGC train. However the area is very central and most other parts of Barcelona are all within walking distance.
---
Read more